Albemarle Pediatric Asthma Coalition Activities
The Albemarle Pediatric Asthma Coalition, APAC, sponsored a public awareness campaign to recognize World Asthma Day (WAD) on May 1, 2012 and month of May as Asthma Awareness month. The APAC is comprised of seven counties located in northeastern North Carolina and includes Bertie, Camden, Chowan, Currituck, Gates, Pasquotank and Perquimans counties.
The recognition of World Asthma Day and Asthma Awareness month will include a publicly read proclamation at a governmental meeting in all seven counties. The proclamation will be accepted by a student living with asthma. Each student will be given the opportunity to share some of their personal thoughts on how living with asthma affects their life.
World Asthma Day banners were placed in each county at an intersection with high traffic visibility. Promotional signs in English and Spanish which read, "This Staff and our Families recognize May as Asthma Awareness month," were displayed at the entrance of schools, childcare centers and medical providers' offices.
Three new billboards, located strategically throughout the seven-county area, publicize the message to increase the public's awareness related to asthma. The billboards' messages list three steps in maintaining good asthma management. One billboard is translated in Spanish.





Due to the need for additional education and management of a child's asthma with regard to correctly identifying and understanding the differences in the use of control and rescue asthma medication, the APAC continues the project of using asthma medication stickers. These stickers will assist with the easy recognition between rescue and controller medications and were designed with the use of clipart and color to distinguish the difference between the two medications. The delivery of these stickers were offered to 40 pharmacies in the seven-county ARHS district as well as Dare and Hertford County.

Please ask your pharmacist, provider, school nurse or child care provider for these stickers or contact your area Pediatric Asthma Care Manager for a supply. Contact information below.

The APAC organized the expansion of the NC School Bus Anti-idling policy to include voluntarily posting Anti-idling signs on their campus in the car cue traffic loops. This project includes ongoing participation to Child Care Centers. This project encourages "No-Idling" zones at participating Child Care Centers, where parents drop off and pick up their children. The North Carolina Division of Air Quality has generously provided signs for this project.
The goals of this project are to accomplish the following:
Create a healthier, less stressful drop-off and pick-up experience for students, parents, teachers and administrators.
Reduce the number of school absences from asthma-related issues.
Cleaner air!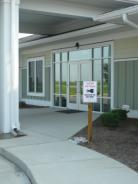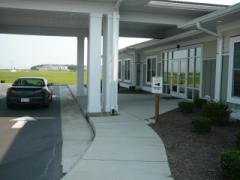 For more information regarding the above events and information, please contact;

Gayle Olson, RN, at 252-338-4369 or by email at golson@arhs-nc.org

Janet Capehart, RT, 252-794-6658 or by email at jcapehart@vidanthealth.com