Gates Partners For Health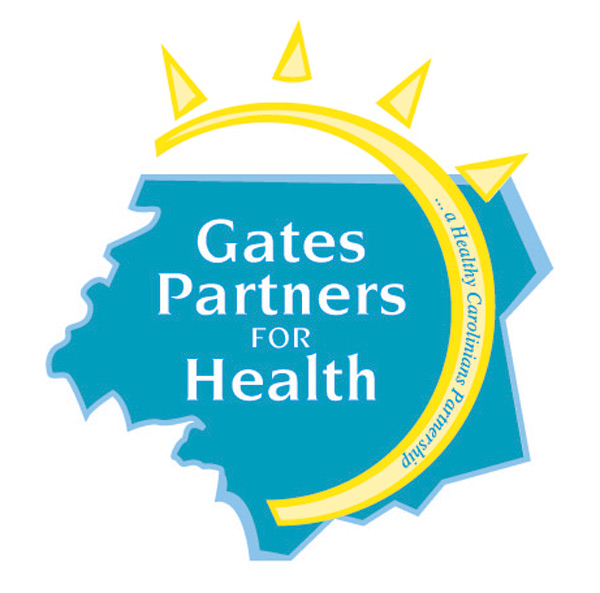 Gates Partners for Health (GP4H) is a network of agencies and citizens dedicated to improving the health and quality of life with people of all ages within the Gates County communities. Priorities of GP4H are divided into two major focus areas: physical activity / nutrition and chronic diseases.
Gates Partners for Health (GP4H) was state certified in 2003 as a Healthy Carolinians Partnership and received its first recertification in 2006 and its second re-certification in 2011.  GP4H received the state 2011 William G. Analyan Award, identifying the partnership as distinguished in the community work that it has accomplished. The partnership's major funding sources have included Kate B. Reynolds Charitable Trust, Gates County Local Government, Roanoke Chowan Community Benefits Foundation, Albemarle Hospital Community Benefits Foundation, Roanoke Electric Care Trust, Inc. and the Obici Healthcare Foundation.
Mission
The mission of the Gates Partners for Health (GP4H) is to improve the health and quality of life in our community. This is obtained by networking with health departments, area hospitals, health and human service agencies, schools, churches, businesses, civic groups, media, community members and elected officials to address health objectives.
Activities & Announcements
Get the latest activities and announcements from Gates Partners for Health
Gates Partners for Health Committees
Each committee concentrates on major health issues of our citizens as identified in the latest health assessments for Gates County. We partner with our network to address initiatives that will improve the health and safety of our community. Our current focus areas are divided into two committee groups.
Click a link below to learn more about a committee.
Contact Us
Please contact us if you would like to become more involved with your community.
Gates Partners for Health

Esther W. Lassiter
Gates County Health Dept.
29 Medical Center Road Gates, NC 27937
Phone: 252-357-1380
Gates Partners for Health Board Members
Executive Committee
Reba Green-Holley
Esther Lassiter
Patrice Lassiter
JoAnne Powell
Frances Perry
Board Members /Area of Representation
| | |
| --- | --- |
| Name | Agency/Business |
| Reba Green-Holley | NC Cooperative Extension Services Gates County Center |
| Lulu Eure | Gates County Community Center |
| Patrice Lassiter | Gates Inter-Regional Transportation System |
| Rick Spencer | Obici Healthcare Foundation |
| Frances Perry | Vidant Wellness Center Ahoskie, NC |
| Jack Owens | Gates County Board of Commissioners |
| Rev. Wesley Boone | New Middle Swamp Baptist Church |
| JoAnne Powell | Roanoke Chowan Community Health Center |
| Adrienne Bradley | Gates County Schools |
| Sylvia Boone | Gateway Community Health Center |
| Jill Jordan | Albemarle Regional Health Services |
| Stormy Butts | EMS Chief, Gates County Rescue & EMS |
| Earl Jagessar | Albemarle SmartStart |
| Hope Eley | East Carolina Behavioral Health |
| Ashley Lamb | Albemarle Commission Area Agency on Aging |
| Esther W. Lassiter | GP4H Hired Coordinator |